LARGE SCALE LITHIUM-ION BATTERIES FOR RV VAN CONVERSIONS
With the rise in popularity of high roof vans by Mercedes Benz, Dodge, Nissan and others Lithium-Ion batteries specifically designed for the needs of the RV (Recreational Vehicle) and Van Conversion Customer!
NEWLY DESIGNED TURN-KEY SOLUTIONS -
GENERATOR-FREE RV's: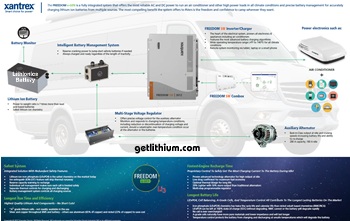 Mercedes-Benz Sprinter Van Conversion using Lithionics and Xantrex systems. Click on the image for a larger one...
Let us help you take the guesswork out of choosing the right system for you! You supply the Mercedes, Chevrolet/ GMC, Dodge, Nissan or other type of full size van and we will connect you up with the following components:
1. A powerful and lightweight Lithionics lithium-ion battery with NeverDie Battery Management system (BMS).
12 Volt, 24 Volt and even 48 Volt configurations available from 200 to 600 Amp hours capacity or more... The Mercedes Galleria van conversions come equipped with a 600 Amp hour Lithionics system that can power the air conditioning for 8 hours or more before recharging.
One of Our Best Values: 450 Amp Hours
Low Cost Per Amp Hour


This Battery Replaces Four or More Lead 8D Batteries
and Saves you Over 650 Pounds!
See the Master Battery List Below for Choices...
2. A powerful and efficient Xantrex SW 3012 inverter-charger: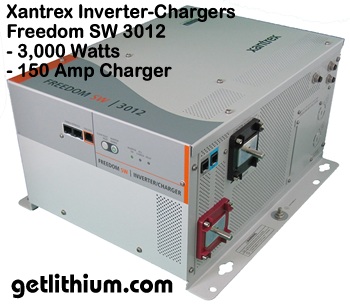 This powerful and efficient inverter has 3,000 Watts of 120 Volt AC power as well as a powerful 150 Amp battery charger. We can also set you up with power cabling, Class T fuses and other hardware. Get more information on the Xantrex Inverter-Charger Upgrades on our Inverter-Charger page...
3. A powerful Alternator upgrade.
We offer Balmar, DC Power Solutions and Nations alternators with up to 350 Amps of output with 180+ Amps output at idle. Available as single OEM alternator replacements or custom dual alternator upgrades.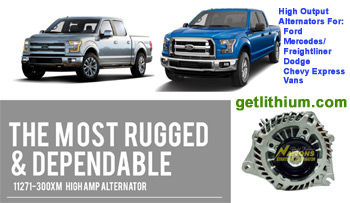 Get more information on the Alternator Upgrades on our Alternator page...



We also offer Balmar and DC Power Solutions High Output Alternators.