ENGINE STARTING BATTERY CONTRACT WON AT
PAGANI AUTOMOBILI ITALY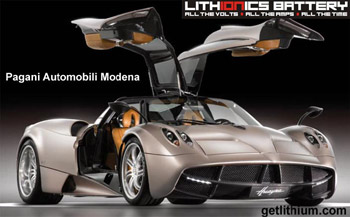 AUTOMOTIVE ENGINE START LITHIUM-ION BATTERIES
Lithionics Battery combines its modular lithium ion automated assembly design with advanced Battery Management Systems (BMS) electronics to provide the widest range of automotive and powersports batteries available worldwide. Our NEVERDIE System, internal to the battery case, places an unused vehicle battery into 'sleep mode', with a reserve energy preserved sufficient to provide 2 to 3 restarts after the battery is reactivated. We offer various remote-controlled user interfaces to 'wake' the battery up.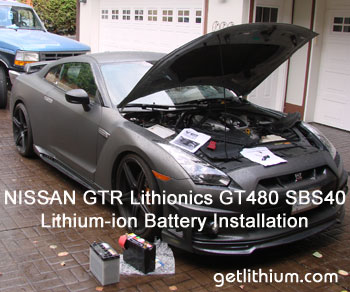 Click here for more photos of our GT480 SBS40 carbon fiber lithium ion battery installed in this Nissan GTR Twin Turbo...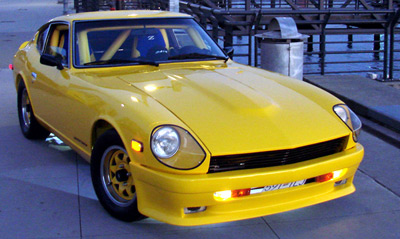 Our lithium batteries are a great replacement upgrade
to all sports cars and Taxi Fleets
As a result of our products' thermal management engineering, Lithionic's batteries operate at higher temperatures than typical Lithium-Ion batteries. This makes our batteries durable and reliable – a necessity in automotive power. That means that our batteries are both high energy for cranking/starting and stronger for reserve energy power - enabling our batteries to give automobiles stronger engine spark and heightened electronics performance. Our resistance to harmful 'voltage sag' enable auto makers to employ engine start-stop methods without resorting to heavy AGM batteries weighing up to 80 pounds.
Lithionics Battery combines power, cycle life and safety to make our products suitable for a variety of automotive applications.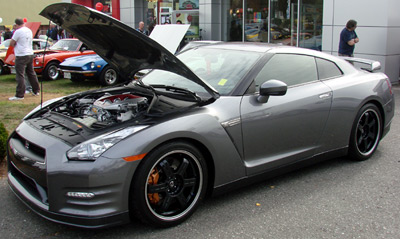 Have a regular car or high performance sports car like this Nissan GTR Twin Turbo?
Our lithium ion batteries offer great advantages for any type of car.
In addition, your new Lithionics Battery will save a lot of weight. Our car batteries weigh from about 9 pounds to 18 pounds, whereas a conventional lead-acid battery will typically weigh 40 to 55 pounds. Over a period of several years, this weight savings will decrease your fuel consumption. High mileage drivers could even see the fuel savings pay for the battery itself.