Lithionics Battery creates the World's first Wirelessly Controlled
Lithium Ion Vehicle Battery!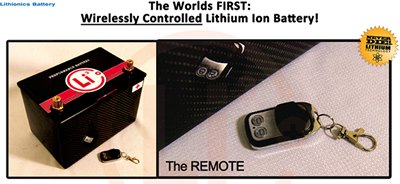 Why is our Wireless Remote so Great?
First, it is really two devices in one:

1 ) The wireless remote is a great security and anti-theft device. By clicking the button on the remote after you exit your vehicle, you "shut off and lock" your Lithionics lithium ion battery. The car cannot be jump started or hot wired without clicking the "on" button of the remote (the battery will be in sleep mode with ZERO VOLTAGE at the battery posts and will not activate). This means that in many cases that for a thief to steal your vehicle, they will have to physically remove and replace the battery.

2 ) The wireless remote is also great for vehicle storage or for vehicles that have a large parasitic drain or draw. This feature is especially handy if your vehicle has a battery location that is very difficult to reach to disconnect your regular lead-acid battery. This function is great for vehicles that only see occasional use - such as some Emergency Response Vehicles. You can simply the click the "off" button on the wireless remote and your battery will enter sleep mode, ensuring that when the Emergency Response Team is called and you go to start the vehicle again, it will be ready and charged for you (our lithium ion batteries also store energy up to 5 X longer than lead-acid batteries).
You may ask "What if I misplace or lose the Wireless Remote?"
Well, we thought of that too. When you order your Lithionics Battery with our "Wireless Remote NEVERDIE Option", your battery will come supplied with TWO WIRELESS REMOTE KEY FOBS - so you always have a spare. This is also a great feature if there are two drivers of the same vehicle (such as Team Members that Patrol together or share the same vehicle).

The 2 videos show how both the "pushbutton" and "wireless remote
key-fob" controls completely shut off power to the battery terminals.

This function is useful for:

Storing your vehicle/ battery
Working on your vehicle when the battery needs to be disconnected
As an anti-theft option
When you have a parasitic electrical draw
You may also ask "What is NEVERDIE?"
NeverDie is an option that can be ordered with ALL of our batteries at extra cost. This is a Low Voltage Cutoff (LVC) circuitry built into the battery that will allow you to use the electricity in your battery with the engine off and the battery will automatically enter "sleep mode" once the battery is drawn down to 10% to 20% of its charge in our Automotive Engine Start Lithium-ion Batteries. For all "engine starting batteries", we can custom program this cut-off point from to 30% of its charge. For all our deep-cycle lithium-ion batteries equipped with the NeverDie System, the draw down percentage is just 3% to 5% of the batteries total capacity/ charge. This means you can use up to 97% of the energy in the battery before it enters "sleep mode". This way, you cannot drain your new lithium-ion battery completely - allowing you enough energy for at least 2 or more engine starts.
The Factory Preset cut-off point for NeverDie equipped Automotive Engine Start Lithium-ion Batteries is 10% to 20%. In cold climates and for machinery/ vehicles that are difficult to start, we recommend that you order the battery with a 30% cut-off point.
If you order the NEVERDIE Pushbutton, a simple button will be located on the top of your battery to manually shut down the battery for storage or to "wake up" the battery from sleep mode.
If you order the NEVERDIE Pushbutton, a simple button will be located on the top of your battery to manually shut down the battery for storage or to "wake up" the battery from sleep mode.
If your battery location is hard to reach, we suggest that you order the "Wireless Remote Key-Fob NEVERDIE Option".
IMPORTANT NEVERDIE NOTES: Please check with your vehicle/ vessel manufacturer about the effects of disabling the battery. In Marine Applications for boats that are moored, you should determine how the NeverDie function may affect safety systems - particularly Bilge Pump Operation. We now offer a "Dedicated Bilge Pump" power option. Vist the Battery Management System page for more information... or see the new Bilge Pump Configuration/our latest NeverDie BMS in Marine Hybrid Magazine October 2013 Article...
Click here to visit the Warranty Details Page...
DO NOT USE A SOLAR CHARGER OR SOLAR CONTROLLER ON ANY ENGINE STARTING LITHIONICS BATTERY - IT WILL VOID YOUR WARRANTY.
All Lithionics Battery 12 Volt Engine Starting Lithium-ion Batteries can be charged with either a 12V rated alternator in proper working order or a Lithionics Battery LiFePO4 Charger. Failure to do so will void the battery's warranty.
Full details for Charging your Automotive Engine Starting Lithium-ion Batteries are found on the Warranty Page here... or check out additional details are found in the linked User Manual below...