Intelligent energy management
Battery management systems are answering the critical global need for safer forms of energy and large-scale renewable energy storage Words: Steve Tartaglia In the year 2013, advanced battery systems are used frequently throughout the marine industry. Lithium ion cells are up to four times more energy-dense than lead-acid batteries, and a battery management system (BMS) is required to protect the cells and maintain safety. But, are yacht owners knowledgeable of the BMS and the decisions it is programmed to make?
Figure 1: The Lithionics Battery NeverDie marine BMS is systems-compatible today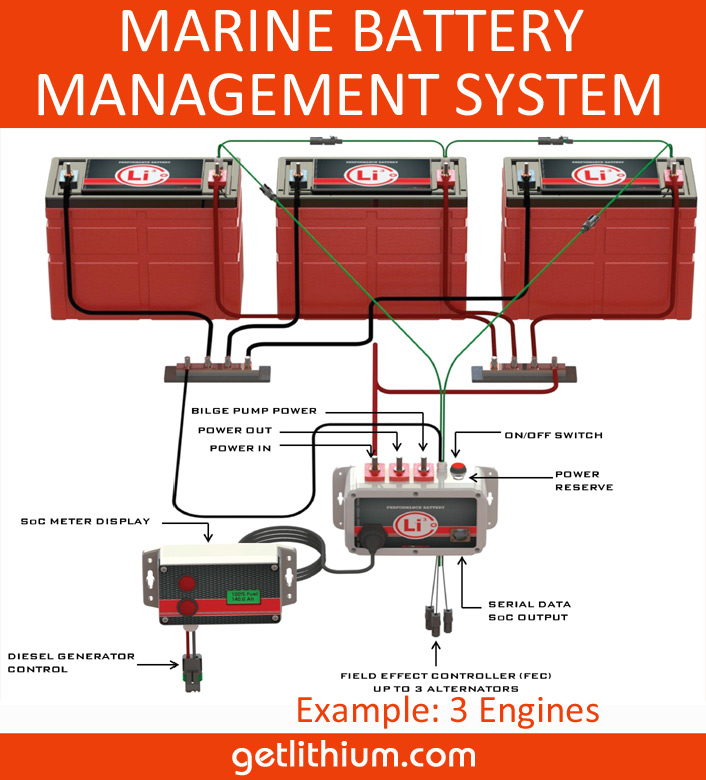 In the previous issue of Electric & Hybrid Marine Technology International, an approach to a modular lithium ion battery system with an external BMS for both expandability and emergency-bypass was discussed. Most lithium batteries have an internal BMS that is not accessible or serviceable. Another major advantage of the external-type BMS is the ability to upgrade it in order to expand its capabilities to manage additional marine systems in the future.
Can a lithium ion battery with a BMS successfully integrate into existing marine environments? The answer is yes, provided that the battery manufacturer properly understands all the marine systems that are connected to that battery system. What are the pitfalls and what are the solutions?
As depicted in Figure 2 (below), a BMS has high voltage cut-off (HVC) with cell balancing called shunting (shown in the bottom graph) and low voltage cut-off (LVC) (shown in the top graph).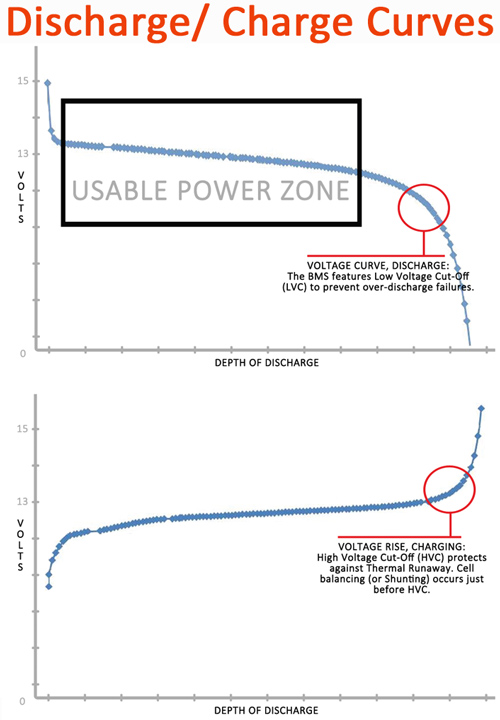 Figure 2
The BMS keeps the system operating in the usable power zone but existing marine systems can trigger HVC or LVC disconnects, with harmful results to the systems. HVC occurs if overcharging is sensed, or, if during cell balancing at the end of the charging cycle, excessive top-end shunt balancing is occurring. This can and will happen because the yacht is likely using multiple charging sources, such as solar charge controllers, alternators, diesel generators, and inverter-converter chargers that are designed for lead-acid batteries. The BMS will temporarily disconnect power to the terminals. However, this also shuts off the power flow. So, what are the solutions?
Dual-channel BMS
First, BMS programming points for HVC, shunting and LVC should follow the lead-acid charging algorithms already embedded in the existing charging sources. Lithionics Battery decided two years ago to offer a BMS that follows the GEL settings for charging. However, transformer-based chargers lack accuracy in many cases, and HVC can occur. Therefore, a dual-channel BMS has been developed by Lithionics Battery. Basically two BMS units in one, one pathway is for charging currents and a separate pathway is for discharge currents. It is fault-tolerant, which permits HVC to trip and disconnect the incoming charge current without disconnecting the power flow. For example, a yacht entering a harbor is being solar charged. A charging voltage spike occurs, HVC is tripped, and the yachtsman is now without power to the ship's navigation systems. Fortunately, the Dual-Channel NeverDie BMS can solve that particular problem.
A Dual-Channel BMS is capable of independently controlling charging and discharging currents:

Alternator charging controls
Numerous news stories have been published detailing alternator fires caused by lithium-ion battery shutdown. If a BMS detects overcharging from an alternator, it will trip HVC to protect itself. But the power has to go somewhere, and the alternator is forced to absorb the energy and self-destruct. The solution is a field effect control (FEC) module on the BMS. It is a special circuit that, when connected to the alternator, an HVC prealarm signal will first switch off the field wire on the alternator to avoid tripping HVC. It may not be a failing alternator, but perhaps an older alternator that lacks Voltage accuracy. The FEC NeverDie BMS is therefore fault-tolerant of the alternator and protects both the battery and the alternator. (NOTE: we now call the alternator "FEC" BMS option "FCC" for Field Control Circuit.
For example, a yacht installation has four alternators on a single serpentine belt drive. One alternator controls the diesel propulsion engine and the other three alternators are charging a large lithium-ion battery bank that in turn provides power to the entire yacht including inverters and air conditioning systems. One alternator begins to fail and is sending in bad voltage or unrectified current. The BMS will simply switch off the field wire on that alternator, preventing alternator over-heating (free-wheeling) and allowing the other alternators to continue. No HVC is tripped and the entire system stays up and running until the alternator is serviced.
BMS with digital and analog interface outputs and controls
Most lithium-ion battery systems communicate to peripheral hardware by CANbus digital signal processing. Marine systems today are simply not CANbus compatible. To integrate safely and easily, a BMS should offer a range of digital and analog outputs that are compatible with existing marine systems. The outputs need to be serial data, bluetooth, 0-5V, or other formats. The BMS provides communications and control signals that allow the BMS to not only communicate with but also control other marine systems. The FEC NeverDie BMS is not independent of the installed marine systems, but, instead, interdependent.
For example, a yacht is using a Fischer Panda DC diesel generator to charge the house or propulsion battery bank. Fischer Panda engineers provided support to Lithionics Battery to create a generator charge-enabled interface. This allows the NeverDie BMS to start the generator when charging is required and turn off the generator when the battery is fully charged.
Battery power reserves
A lithium battery BMS has a single Low Voltage Disconnect point (LVC). But, like the last dollar from a paycheck, it never comes at the right time. The NeverDie Power Reserve system offers a dual LVC system.
An example of this in use includes batteries that are both deep cycle and engine starting. The ideal marine battery would be able to both deep cycle and be capable of engine starting. A 250HP outboard engine normally has two Group 31 AGM batteries at 150 lb (68.1kg). A professional bass fisherman in competition will isolate one battery for engine starting; and the other battery for deep cycling to support GPS, fish-finders and live-wells for his prized catch. A single 30 lb (13.6kg) lithium battery can replace two batteries if it has a power reserve feature. The battery will provide deep cycle power for all-day electronics use, and the dual LVC power reserve ensures the single battery has enough cranking power at the end of the day. For example, a boat using a lithium ion battery powers an electric outboard motor. Returning home, the battery runs out of power within sight of the dock.
A dual LVC BMS provides a 10% power reserve system offering emergency power. For example, a yacht maker offers a master power switch connected to the BMS. A single switch turns off all systems and protects the battery from discharge when leaving the boat. But what about the bilge pumps? The dual channel LVC system turns off the mains and all parasitic draws, but the second LVC channel permits power to the bilge pumps down to 97% depth of discharge. If necessary, should an emergency arise, all the battery power in the lithionics battery is diverted to the bilge pumps. The dual LVC retains enough energy to restart the engines or generators.
Looking ahead
Lithium ion batteries provide huge gains in weight savings and energy density, and support modern systems such as DC-powered air-conditioning systems. Customers also report that there is a real return on investment when using these batteries. However, investment in a lithium battery only makes sense if it allows the boat owner to use the existing systems. The gains are also lost if the battery causes another component to fail. Lithionics Battery's aim with the NeverDie BMS is to ensure that the performance improvements and cost savings stay in the yacht owner's pocket. So, it has to be safe, and it also has to be easy.
Words: Steve Tartaglia
NOTE: When connecting an Inverter-Charger with a single set of DC power cables to the Dual Channel BMS, we generally recommend that you connect its positive DC power cable to the Dual Cahnnel BMS box's "LOAD" terminal. This applies to reliable inverter-chargers like Victron, Xantrex and some other good quality brands.