Morningstar MPPT Solar Charge Controllers
Holiday Cabins, Residential, Marine, RV, RV Trailers,
Van Conversions, VW Westfalias, Commercial Applications and more!
Morningstar offers some of the best and most economical MPPT solar charge controllers on the market. Morningstar's SunSaver MPPT solar controller with TrakStar Technolgy is an advanced maximum power point tracking battery charger for off-grid photovoltaic (PV) systems. The controller features a smart tracking algorithm that maximizes the energy harvest from the PV and also provides load control to prevent over discharge of the battery.
The SunSaver MPPT is well suited for both professional and consumer PV applications including automatic lighting control. Its charging process has been optimized for long battery life and improved system performance. This product is epoxy encapsulated for environmental protection, may be adjusted by the user via four settings switches or connection to a personal computer and has an optional remote meter and battery temperature sensor.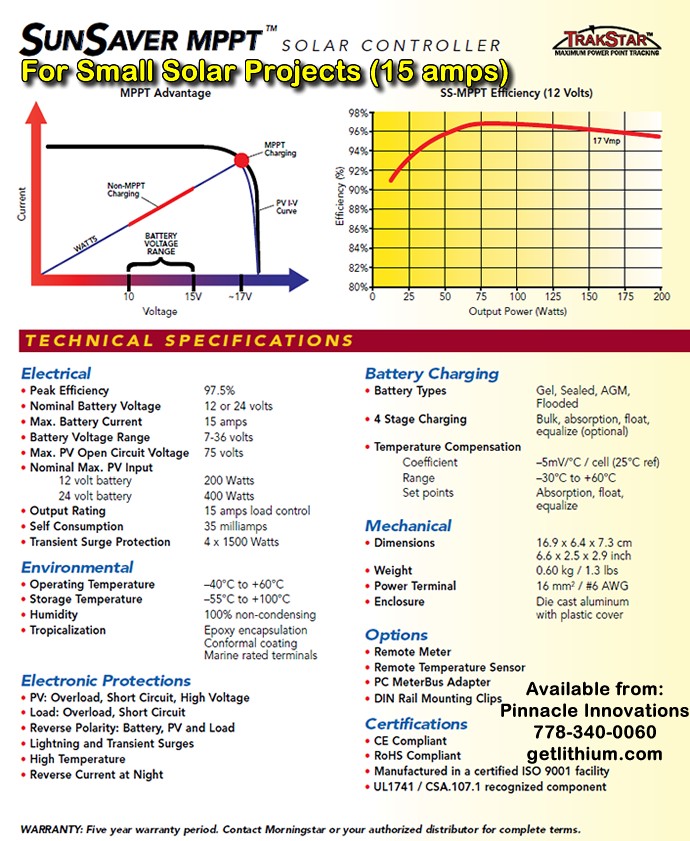 The typical Solar Energy System has several components (Click on the Links):


LITHIONICS BATTERY SOLAR POWER CONTROLLER DETAILS

All 12 Volt Lithionics Battery Lithium ion Batteries need to be charged between 14.0 Volts
and 14.6 Volts. The Batteries also need to "Float Charge" at 13.6 Volts.
Not all Solar Controllers have safety features or adjustable voltage settings. Typically,
only 3-Stage Solar Controllers with "Equalization" can be adjusted to the Voltages listed
above or those that have a "Gel Battery Setting" (the Gel Battery Setting is normally 14.0 Volts output). Lithionics has tested and approved many solar charge controllers by Blue Sky, OutBack Power and Morninstar for use with Lithionics Batteries. Please make sure that the settings meet the above voltages and use the Gel Battery setting or a Lithium Battery setting on the solar controller.
Lithionics Battery Lithium ion Batteries are
98% Efficient with Solar Power Charging!

Compare that to only 36% Solar Power
Efficiency with Lead-acid Batteries!

Lithionics Battery Lithium ion Batteries
Charge 3 to 4 Times FASTER
with Solar Power Charging
than other forms of batteries.